The holidays are here and so are sweets, pastries, and high fatty foods this season. The best way to keep our body healthy and boost our immune system is detoxifying regularly. The main focus during the holiday season is our digestive system, so the rebuilding and repairing damaged cells on our body will increase.
Before I move to my favourite liver detox juice recipe, I want to share some important steps:
Get 8 hours of sleep: Your body repairs itself while you sleep, so the growth and repair hormones begins. These hormones are most active between 10PM and 2AM. Many studies have shown that the sleep we get before midnight is twice as powerful as sleep after midnight. If you have a hard time falling asleep, develop a sleep routine, stop watching TV one hour before going to sleep, take a hot shower or bath, have some tea, turn on the essential oil diffuser and add lavender oil to it etc.
For the morning shower, dry brush the whole body. This routine will help exfoliate dead skin cells and helps to open up your pores for optimum detoxification through your pores. If you can use a sauna or a steam room, that's also a wonderful way to detoxify.
Begin your day with a glass of warm lemon water. Squeeze the lemon and drink it on an empty stomach. Water is essential for detoxification and lemon aid in removing toxins as well as detoxifying your liver. Lemons are also high in vitamin C which will boost your immune system.
Do a 3 Day Juice cleanse, to flush your body with loads of antioxidants, minerals, and vitamins that will boost your immune system.
This might be hard, but limiting caffeine intake to one cup a day is also an essential part while you are detoxing. You can have herbal tea like peppermint, green tea, or ginger tea instead, which are also great for digestion support.
Why Is Liver Detoxification So Important?
The liver is the second largest organ (after skin) in the body, weighing nearly two kgs in an adult. The size of the liver corresponds with the size of the human body.
Functions
All of the venous blood, returning from the pancreas, stomach, small intestine and spleen, converges into the portal vein. The liver gets first pickings of everything absorbed in the small intestine, where all nutrients are reabsorbed. So, it is the liver's job to process all food that your intestines absorb.
The liver performs the following important functions:
It is the chemical factory of the body
It produces bile
It processes all food
It converts amino acids into proteins
It is instrumental in clearing out harmful drugs and other chemicals from the body
The detoxification of the digestive tract means– "in with the good and out with the bad". Our health and well-being depends on understanding and learning that 80% of the immune system is in the digestive tract. If this doesn't work, then the system will begin to break down and cause numerous diseases. (Source: Cleansing Therapy by Prof. Dr. Piyush Saxena)
I have done full body cleansing and I can assure you, you'll feel like a newborn.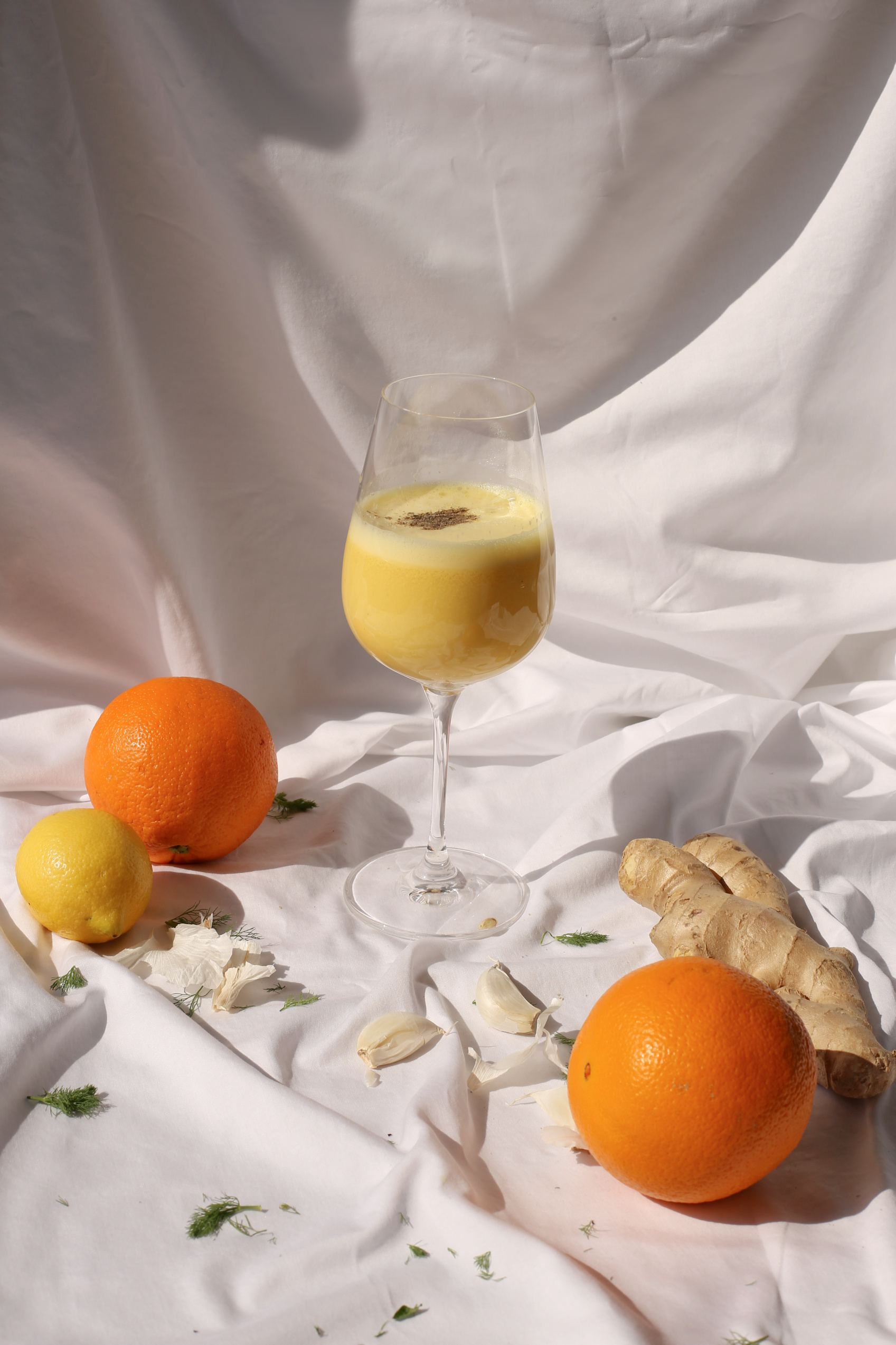 LIVER DETOX REMEDY

The ingredients you need for one glass
2 cups of freshly squeezed orange juice
1/2 Lemon juice
2 tablespoons extra virgin olive oil or flaxseed oil
3 cloves of fresh garlic
chunk of ginger
Dash of Cayenne Pepper
Blend all ingredients and serve!
Drink this juice every day for 7 days and you'll notice it's benefit right away.

Disclaimer: This recipe was not invented by me, but it's an old home remedy known from many generations that the mixture of these ingredients cleanse the liver in best way.
Photos (c) DisiCouture
*Disclaimer: DisiCouture's product selections are curated by the author. If you buy something through our links, we may earn an affiliate commission, at no cost to you. We only recommend products we genuinely love.