It's also time to transition your fragrance choices for fall. The best perfumes contain rich scents such as leather, spices, wood and amber to evoke images of leaves turning golden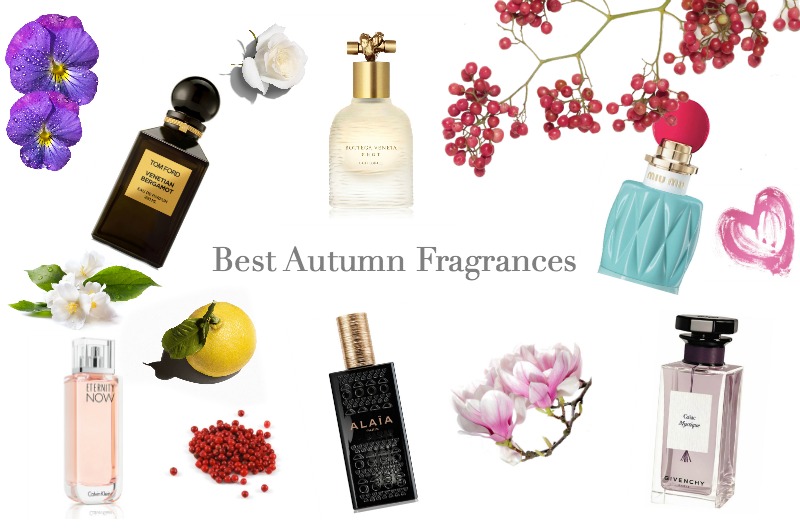 As we change our summer outfits to new knits and boots, we make the same transition to autumn by switching out the fragrance you've been wearing for the past few months. Now it's the time of the year to love scents that are warm, woody and comforting—or channel the power of positive thinking with a floral or citrus one that lets you briefly forget about the gloomy and cold weather.
Here are my favorite autumn fragrances:

MIU MIU Eau de Parfum 
The very first fragrance from Miu Miu, was a big surprise for Miu Miu fans and perfume lovers. The bottle has a gorgeous blue base (etched with the brand's signature matelassé design) and a round red cap. Stylish femininity, youthful seduction & unconventional sophistication. A classic, yet contemporary fragrance. The Miu Miu fragrance offers a contemporary vision of the Lily of the Valley twisted with Akigalawood. The spirit of the brand is captured in a bottle: a classic with a modern age.

TOM FORD Venetian Bergamot Eau de Parfum
Venetian Bergamot belongs to Tom Ford's collection Private Blend, that presents a unisex edition which blends expressive pepper-based notes with exotic floral notes and creamy woody shades. With Venetian Bergamot, the sun-drenched citrus from Italy's south, precious woods and warm spices. Bergamot's fresh elegance is underscored and intermingled with the intriguing sensuality of Venice.

ALAÏA Paris Eau de Parfum
A perfect modern creation with both cool and warm notes, ALAÏA Paris Eau De Parfum opens with airy top notes for a fresh first impression.  "My perfume is not reasonable — it makes time lie. I dreamed of it like an archaeologist dreams of sculptures from antiquity lying at the bottom of the sea for millennia, sculptures of perfect bodies, matched only by the women of today — an ideal and timeless beauty." said Alaïa. The scent is based on the contrast of cool tones, such as red pepper, and oriental, hot flavors, like musk.



Bottega Veneta Knot Eau Florale
New Knot is a Floral fragrance for women, with top notes of mandarin orange, neroli and lavender, middle notes are rose and peony layered with the softness of musk. The Knot Eau Florale bottle – inspired by Venetian glasswork and the traditional Italian carafe – mirrors the rounded curves and clean lines of the signature Knot flacon, now rendered in pale, frosted striated glass that lends the bottle a subtly hazy quality, like sunlight through mist. The cap, meanwhile, remains the bottle's most distinctive design element: a gold, knot-shaped closure that recalls the closure of Bottega Veneta's Knot clutch.




GIVENCHY L'Atelier Gaïac Mystique
This fragrance is a dark, romantic allure and charismatic woody oriental. The noble, rich and voluptuous Gaïac wood with an intense, powerful and contrasted smoky scent. A charismatic and powerful olfactory material rarely interpreted by the perfumery market for an atypical and unique fragrance. Top notes of Gaiac Mystique composition place powdery iris in the first plan, by accentuating it with guaiac wood in the heart of the fragrance. Smoky-mysterious veil arises from incense in the base, blended with warm, cuddly and balmy tonka.

Calvin Klein Eternity Now For Women
Calvin Klein launched a new fragrant pair Eternity Now few months ago. 27 years after the original Eternity, and the year after Eternity Night editions new flankers com out: addictive and sparkling floral for women and oriental version for men. It captures the thrill and raw emotion of new love, when two people realize that it is the beginning of forever. They come together in a moment of profound clarity where emotion transcends the physical and the sheer power of the connection is unexpected and undeniable. The heart of the fragrance blooms with a floral bouquet of peony, peach blossoms, and dewy neroli petals, leading to a drydown of a soft cashmere veil and traces of sensual ambrox and precious musk that translate the attraction and power of a beautiful love story about to unfold.
©DisiCouture