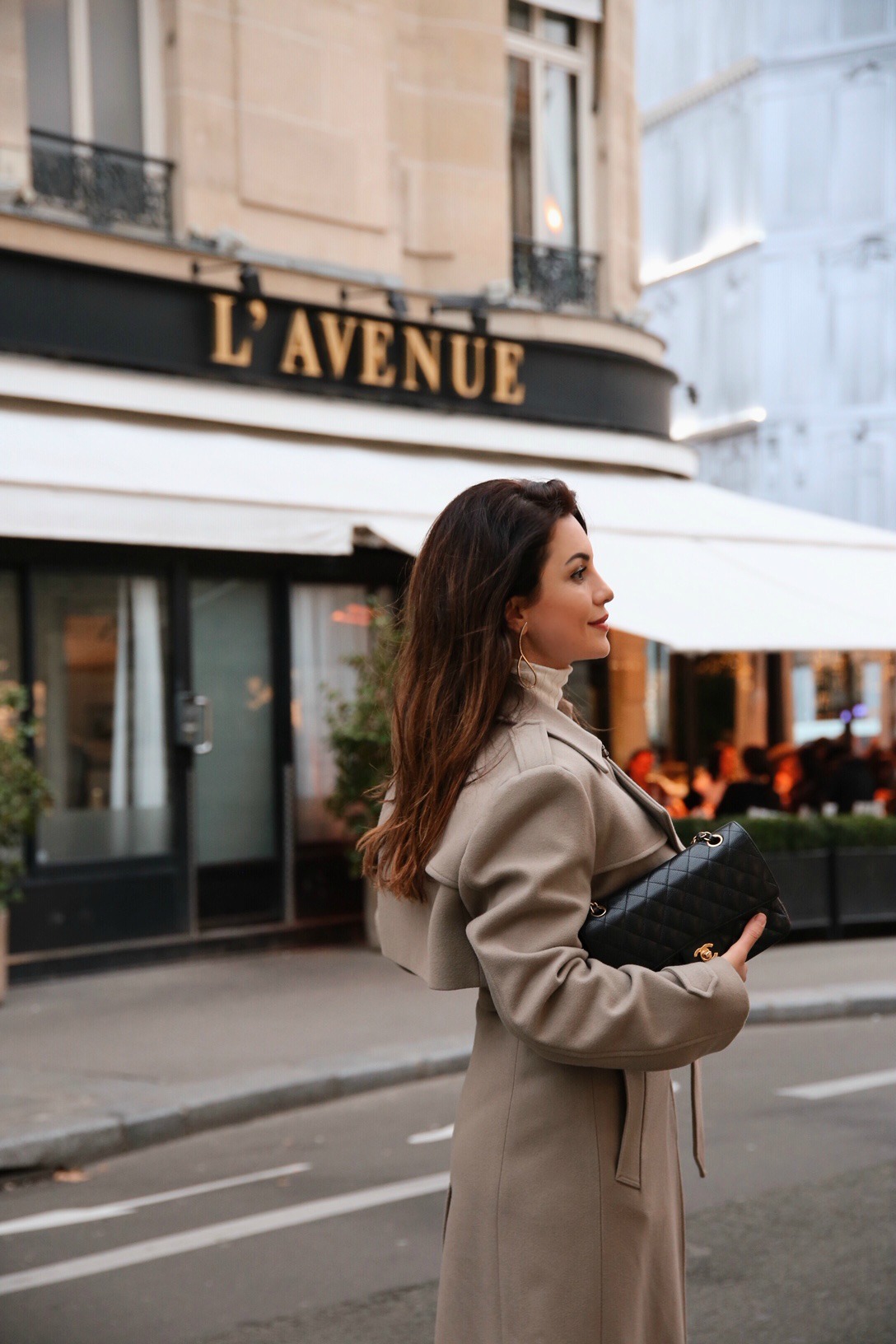 Finally answering the most asked question via direct messages on Instagram. Through a blogpost is easier to list all my favorite places where to eat and drink in Paris, and have a page to send it over to everyone. This post is 100% not sponsored, but I love to share my favorite spots with you.
Few of them might be too popular, pricy and always crowded. However these places are iconic and must visit hotspots in Paris. From vegan to opulent Parisian restaurants, celebrity hotspots to plant-based cafés, I have listed numerous places for everyone. Scroll down and save them on your google maps!

BREAKFAST & BRUNCH
I prefer to have breakfast at a typical local café, which is cheaper than a hotel breakfast, depending on where you are staying.
Usually a typical Parisian breakfast includes pastry and coffee. The breakfasts have baguette or croissant, jam or butter, tea or coffee, juice and pastries. If you want a bigger breakfast you can have additionally have eggs or yogurt.

WHERE TO HEAVE BREAKFAST OR BRUNCH?
From kofta dumplings to pastrami sandwiches or naan – Season offers international, healthy and fresh food with a touch of French cuisine. Go for the mind-blowing delicious caramel pancakes or avocado toast with poached eggs. Address: 1 Rue Charles-François Dupuis, 75003 Paris
One of my favorite places for breakfast, Maison Sauvage is a very instagrammable place. A lovely spot, beautiful interior, with lots of healthy and tasty food options. Must try the delicious bowls, granola, omelette, and pastries. Address: 5 Rue de Buci, 75006 Paris
Holybelly always serves seasonal and homemade food from the finest ingredients, cooked in delicious flavors. They have two locations and both on the same street. One at number 5, where they serve pancakes, eggs and sides, daily specials, specialty coffee and craft beer and one at number 19 for seasonal breakfast sharing plates, plats du jour etc. The line on the weekends can be very long, so try to visit early in the morning when they first open or try during the week. Address: 5 Rue Lucien Sampaix, 75010 Paris
I love this cafe, not only for breakfast but also for afternoon coffee or food. Address: 6 Rue Jean du Bellay, 75004 Paris
Amazing place for brunch and the pancakes are really out of this world, as well as the eggs Benedict with homemade brioche and feta – so yum! They don't take reservations, but if you arrive early you might be lucky to get a table. Address: 30 Rue Debelleyme, 75003 Paris

WHERE TO HAVE LUNCH?
In a gigantic 4-floored building, each level with its own identity from the street level to the rooftops, Pink Mama is definitely one of the most instagrammable places in Paris. Very good Italian food, with fresh ingredients and products. Everything is made in-house, from the pizza to the pasta and the ice cream. Address: 20bis Rue de Douai, 75009 Paris
The new dining room of the Opéra Garnier, has a chic restaurant with a Great Gatsby interior decoration. A spectacular restaurant by the location and also extraordinary in terms of history, culture, and art. There is something for everyone, including smoked heart of salmon or a raw tartare of beef filet with or without caviar. Address: Palais Garnier, 1 Place Jacques Rouché, 75009 Paris
If you love healthy and spicy food visit the best Indian restaurant in Paris, Desi Road. From the thalis to the naans, everything is amazingly flavored and so delicious. Address: 14 Rue Dauphine, 75006 Paris, France
My new favorite place LouLou, is the arty restaurant overlooking the gardens of the Palais du Louvre behind the walls of the Musée des Arts Décoratifs. Offering lunch, dinner and everything in between seven days of the week, LouLou serves perfectly-seasoned, delicious and comforting Italian classics, presented in a chic French way. Address: 107 Rue de Rivoli, 75001 Paris
There are lot of negative reviews about the Ralph's Restaurant in Paris, but my experience was very nice. I love the classic RL vibes with Parisienne elegance, located on the Boulevard St.-Germain. The courtyard is very charming and the inside is just gorgeous. I love to go for lunch and have their delicious burger and the excellent (American) fries. Address: 173 Boulevard Saint-Germain, 75006 Paris

WHERE TO HAVE COFFEE?
Nothing can beat the city's most iconic café, which is also one of the must visit places when I am in Paris. Sitting shoulder-to-shoulder with strangers at the sidewalk seating is part of the experience. There is no wrong time to visit, but I prefer to have an afternoon coffee with a cake or a typical french breakfast at Café de Flore. Address: 172 Boulevard Saint-Germain, Paris
A very instagrammable café, the Petit Palais hides behind its beautiful façade a very lovely green place. Enjoy a coffee break after fascinating exhibitions. A very lovely inner courtyard with tropical garden it's a perfect place for a relaxing coffee or lunch. Address: Avenue Winston Churchill, 75008 Paris
The best Parisian patisserie by Philippe Conticini will give you chocolate climax and melt with pleasure. Address: 37 Rue de Varenne, 75007 Paris
Where Henry Miller came for breakfast. Jane Birkin used to lunch here, as did Marc Chagall, Henri Matisse, James Joyce, Pablo Picasso, Josephine Baker, and Prime Minister François Mitterand. The menu includes typical French brasserie food, and seafood. Address: 102 boulevard du Montparnasse, 75014 Paris


WHERE TO HAVE DINNER?
Balagan (which means "hullabaloo," in Hebrew) is Paris's newest hotspot for food and cocktails. The serve Middle Eastern cuisine and delicious drinks. Located in prestigious area of the 1st Arr with stylish interior, classy crowd, great service with a very friendly staff. Highly recommended! Address: 9 Rue d'Alger, 75001 Paris
The legendary Parisian restaurant since 1924. No website, no online booking, no Facebook, no Instagram. It's almost always fully booked, but if you are lucky, you might get a table. The people who tend to get in are either regulars, famous people, or by the grace of a palace hotel concierge. L'Ami Louis specializes in traditional French cuisine, including lamb and foie gras. It's very pricy, but the serve incredibly delicious food. Open Wednesday-Sunday for lunch and dinner. Closed Monday and Tuesday. Address: 32 Rue du Vertbois, 75003 Paris
One of my favorite places for dinner and cocktails, Hôtel Costes used to be better years ago then today. Even though sometimes I am disappointed with the service and the pretentious clientele, but I still go to Hôtel Costes because I love the atmosphere and the interior. It has always been a tradition to go, at least once when I am in Paris. The food is excellent and each dish is carefully executed; but excellent quality comes at a price. Address: 239-241 Rue Saint-Honoré, 75001
The Asian-fusion restaurant is a perfect place for a date-night. The interior is one of a kind, decorated with giant paper umbrellas hung over the tables. The food is mind-blowing. Definitely worth to visit! Address: 49-51 Avenue George V, 75008 Paris
An amazing petite husband and wife owned restaurant, is very intimate and romantic. They serve exceptional good food and service without being pretentious. Reservations recommended! Address: 48 Rue de Verneuil, 75007 Paris
The tiny post-modern brasserie, that offers a deep experience of excellent food, situated in the heart of Paris in Saint-Germain-des-Prés. Great for lunch and dinner, their menu is listed with brilliant fresh food. Online reservations open just 15 days in advance. Address: 5 Rue Perronet, 75007 Paris
Is the biggest restaurant in Europe, and the latest hot spot in Paris is a new eatery from cult restaurant group Big Mamma. With five kitchens and three bars including a beer garden, plus a food market, there is everything for everyone. Some of La Felicità's specialties include pizza from a wood-burning oven, creamy burrata and plenty of savory pasta dishes, truffles optional. Address: 5 Parvis Alan Turing, 75013 Paris
One of Paris' most exclusive restaurants Le Train Bleu, an icon of Parisian dining. Beautifully presented French food. The menu changes seasonally, and it's pricey. However, it's worth it for once a lifetime memorable dinner experince. Address: Gare de Paris-Lyon (Hall 1), 75012 Paris
Inside the luxury boutique hotel, you will find the restaurant Cléo which is run by Zachary Gaviller from Montreal. CLÉO offers tasty and contemporary cuisine, made exclusively from carefully and seasonally selected products. Address: 19 Boulevard de la Tour-Maubourg, 75007 Paris

WHERE TO HAVE VEGAN & PLANT-BASED FOOD?
A lovely little cafe bar to stop for a quick breakfast, Love Juice Bar makes delicious smoothies and bowls. I would suggest to visit either early breakfast or late lunch, because it's mostly very crowded. But you can also take away your toast and smoothie! Located near Le Marais, so it's a great spot to visit and stroll around hip area of Le Marais. Address: 26 Rue Chapon, 75003 Paris
Wild and the Moon is one of my favorite vegan restaurant in Paris. There are few locations, but my favorite is is in Le Marais. Wild and the Moon is 100% plant-based with lots of gluten-free options. There are plenty of dishes to choose from, hot and cold, and delicious sweet treats. Address: 25 Rue des Gravilliers, 75003 Paris
Second on my Vegan Guide to Paris is Cafe Berry. Just down the street from the Love Juice Bar is the Cafe Berry. Certainly, it's a picture perfect cafe, and girly as can be. The menu for example boasts simple, colourful veggie food – like pink hummus and avocado toast, pancakes, and colorful lattes. Their concept is to offer dishes that are humane, high quality, and wholesome. You'll enjoy both the food and the ambiance in this sweet cafe.
For vegan dinner I would suggest Tigermilk. Although it's not entirely vegan, but there are tons of plant-based options. This restaurant focuses on making healthy sustainable VERY delicious food! Address: 77 Rue d'Aboukir, 75002 Paris

(c) DisiCouture
*Disclosure: This post is 100% NOT sponsored and it doesn't have affiliate links.