Flying out of Amsterdam's airport, typically one of the Europe's busiest, felt both safe and comfortable.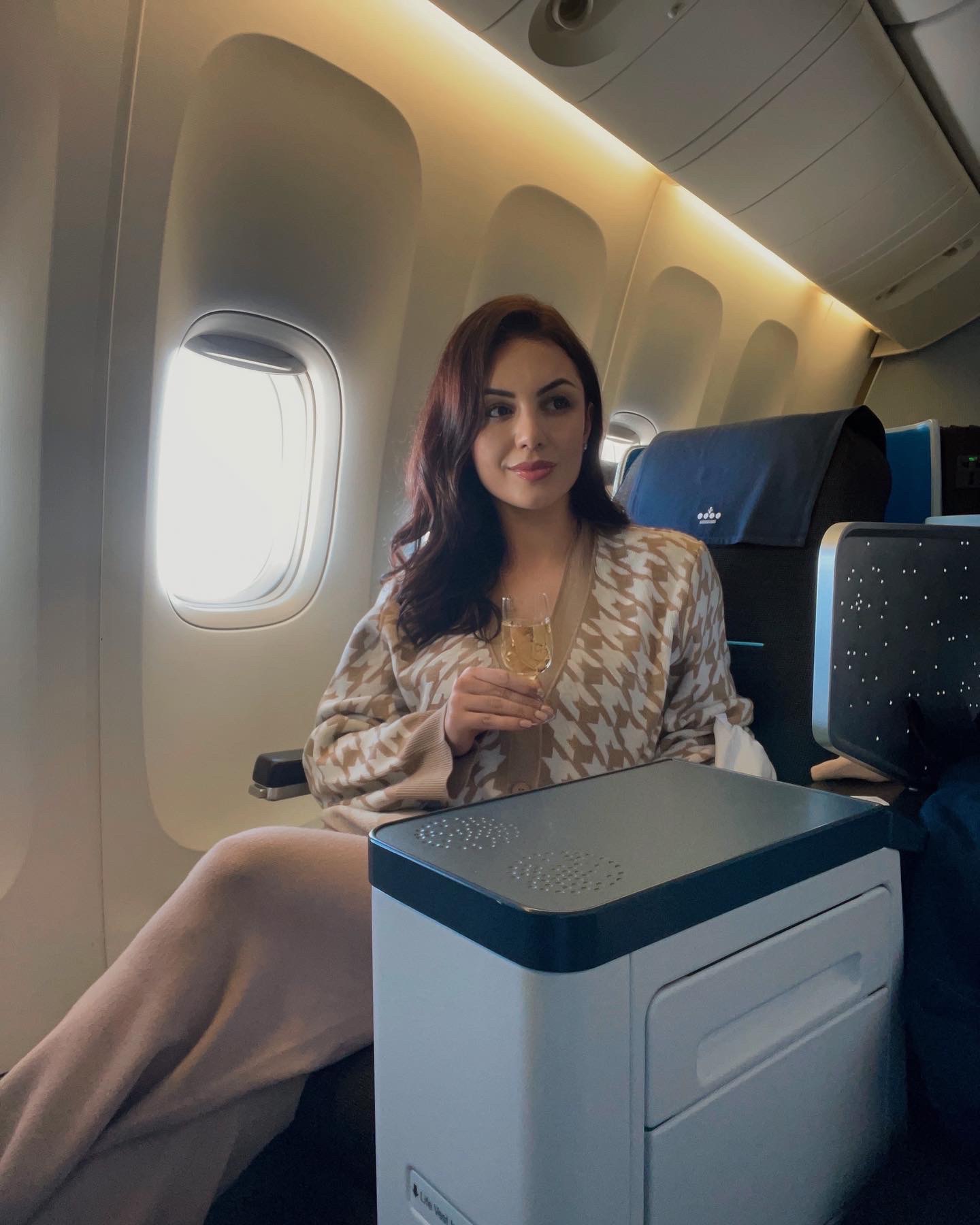 On December 10, I took my first overseas flight since I went to Maldives in November 2019. I may be a passionate traveler, but all my flights in 2020-2021 were within Europe. However, the pandemic left me extra-cautious about leaving overseas, and until now, I've felt safest making small trips in Europe. Since the pandemic hit, I've regularly wondered how safe flying overseas during the pandemic would feel?
My planned trip with KLM to Quito over Amsterdam was initially planned for Spring 2020. However, I had to postpone the trip a few times, until I felt safe to plan it for December 2021. Yet despite my concerns about safety, I ended up completely surprised by how well it went.
Flying during the pandemic has new policies and protocols— not to mention a more considered, conscientious traveling public— made for a downright pleasant trip. Don't believe me? Here are the silver linings I found in the place I least expected.
First departure from Vienna's International Airport
Since my flight from VIE to AMS was at 7:00AM, there were fewer cars, fewer pedestrians, and everyone was wearing masks. I arrived two hours prior to my flight, so I was pretty much one of the first passengers at the priority line to check-in my suitcases. Everything went perfectly well, and I was ready to go to the gate.
My normal pre-flight routine involves picking up water, coffee or a snack. Thankfully, I've gotten in the habit of taking a reusable water bottle with me everywhere, and since I live in Vienna, where we are privileged to use the tap water— I could refill my bottle and just bought a coffee to wake-me-up, while I was waiting for boarding.


Boarding the flight
It was a smooth boarding process— aside from prioritizing passengers who needed assistance, KLM patiently boarded the flight from back to front of the plane, with no murmur of opposition from passengers. By the time I got to my seat in 2A, and the entire boarding process felt very calm.
In the Air
Passengers and crew wore masks the entire flight; to my eye, no one complained. Also, KLM kept the middle seats empty, which made me more comfortable. At the beginning of the flight, the crew served breakfast and drinks. There was free WIFI on board, which was convenient to get the information about my connecting flight to Quito. However, before landing in Amsterdam, the crew members informed every passenger who had connecting flights— where we had to go. This was a perfect example of excellent service.
Exiting the plane in Amsterdam
The landing was smooth and very well organized. The crew closely monitored our exit from the plane, which we did row by row. Everyone on the plane fell in line and it made for a far faster exit from the plane and safer way to go for all.
I had only 60 min to go to the gate and to catch my connecting flight to Quito. There was another passport control, but everything went smoothly and I arrived at my gate on time.

Boarding the flight to Quito
"Finally it's happening! I am flying to Quito!"—this was my reaction when I saw the departure information on the screen and I couldn't be happier that my long-planned trip was finally becoming true. I wasn't expecting that this flight would be full with passengers who were also flying to Quito, but I can't recall the last time I encountered such a smooth boarding process.
Again KLM cabin crew patiently boarded the flight from priority passengers, and all passenger groups. Since I was traveling alone, I was hoping to sit alone, and guess what? One of the kindest stewardesses came to me and said "I don't know why, but you are very lucky today!" It made me smile and happy, that my wish came true and I could take tons of pictures during the flight, without disturbing anyone sitting next to me.



In the Air Overseas
Surely, all passengers and crew wore masks the entire flight. At the beginning of the flight, the crew offered a welcome drink and champagne. Of course, I said yes to champagne, because why not?
The 12 hours flight from AMS to UIO went perfectly well and fast by. I enjoyed every meal and drink on board, all details like the meal presentation, the Delft Blue porcelain plates and cups, the goodie bag filled with flight essentials such as a pair of socks, sleeping eye-mask, earplugs, a lip balm, toothpaste and a toothbrush, hand cream, hand sanitizer— everything was perfect.
Flying on business class offers ultimate comfort and a high level of privacy for the passengers. If you choose to travel in the business class cabin, you will surely have an elevated air travel experience. There is a variety of on-ground and in-flight services and amenities that help every passenger feel comfortable and well-rested when they arrive at their destination.
What I love about traveling on business class on international flights, is that it helps you to avoid the effect of jet-lag and spend a long layover in an enjoyable way. I could rest the whole flight, work in a private and comfortable way and also get plenty of entertainment options— all this has definitely made the 12-hour flight very pleasant.

Landing in Quito, Ecuador— home to the Andes, Amazon and Galapagos Islands
Perhaps the smoothest part of the flight was when we landed. The crew managed the exit from the plane perfectly, which was ultimately safe and well organized.
When we arrived at Aeropuerto Internacional Mariscal Sucre (Mariscal Sucre Quito International Airport), I realized that all the checked bags—even the one I had checked at the gate—had to be retrieved at the baggage carousel. That meant no crowds milling around the jet bridge; another safety measure that was safer and more enjoyable for everyone.
We all made our way to baggage claim, and in less than 15 minutes after deplaning I had my bag and was making my way to wait for my friend to arrive from Guayaquil.

Additional information about the flight
KLM has been awarded the APEX Diamond Award Health Safety. This award is the highest possible level of certification for airlines in the area of health and safety. KLM is the second European airline to receive this Diamond certification, after Virgin Atlantic.
KLM received the World Class Award as best airline for passengers. KLM has been awarded the 2022 APEX World Class Award. This is a new APEX award and the highest category in its global awards for the airline industry. It represents exceptional recognition of achievements in areas such as safety, well-being and sustainability.
KLM gifts in business class:
KLM has been presenting miniature Delftware houses containing Bols Jenever gin to World Business Class passengers on intercontinental flights since the 1950s. The houses are replicas of special buildings in the Netherlands and are much sought after collector's items. Since 1994, the house number has matched KLM's age, with a new miniature being added to the collection every year around KLM's anniversary on 7 October.
You might find these article interesting:
WHY YOU SHOULD VISIT QUITO, ECUADOR IN 2022?
INGAPIRCA: THE ECUADOR'S VERSION OF A MINI MACHU PICCHU
TRAVEL GUIDE TO CUENCA, ECUADOR
All photos (c) Disi Couture
*In a friendly collaboration with KLM/Air France