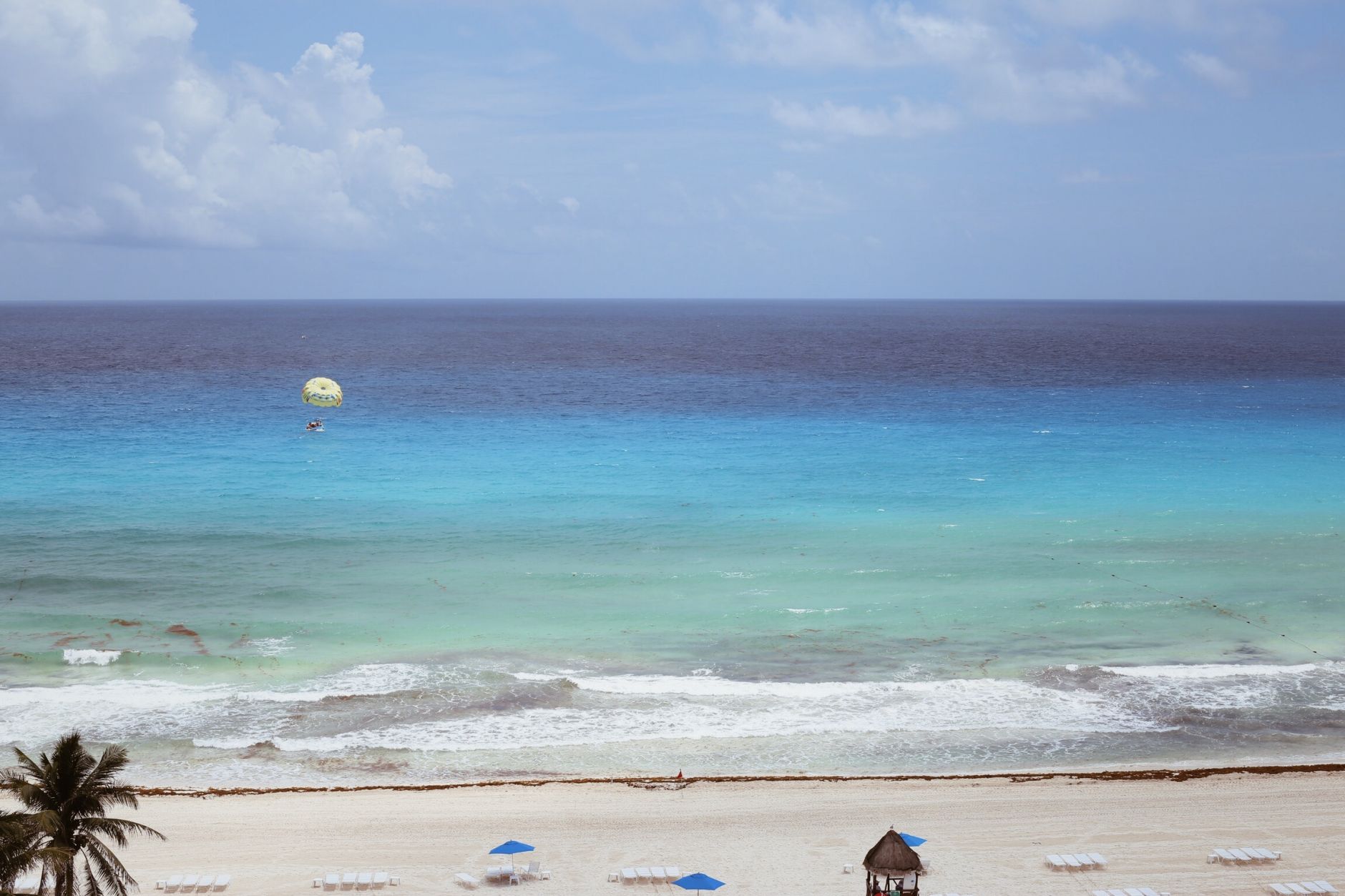 I am starting this year with a long waited travel blogpost that I've announced on Instagram in October, and I can't believe how time has gone by so quickly. For a very long time I have dreamt of going to Mexico, stretching out on a white sandy beach, eating guacamole and tacos all day long. Indeed, it was the first time I have visited Mexico and now I am very excited to tell you everything about this trip.
As part of my life – loving to travel, explore and experience life as much as possible, to race out and do everything, I booked a trip Cancun, Tulum and Mérida. When I was looking for the hotels in Cancun, I searched for few hours the best hotel right on a white-sand beach in the center of Cancun's Hotel Zone, and I found the Ritz-Carlton.
I've always had great faith in Ritz-Carlton hotels, so I was pretty sure that their property in Cancun will be another wonderful experience. With a traditional Ritz-Carlton elegance, the renowned Cancun luxury resort, offers a wonderful culinary experience and unforgettable stay for families, couples as well as singles. My days started with the divine ocean view room, a wonderful breakfast, and a relaxing day on the private white sand beach.
Scroll down to learn more.

LOCATION
The Ritz-Carlton, Cancun is just 20 minutes from Cancun International Airport, the gourmet restaurants and shopping centers are within walking distance. The main nightlife area can be reached in 10-minute bus or taxi ride. The hotel concierge can arrange airport and attraction area transportation.

THE STYLE OF THE HOTEL
The Ritz-Carlton, Cancun hast kept its signature elegant interior, and quiet different from the usual Cancun hotel style. It has a bit of classic Parisian vibes with fine art, crystal chandeliers, marble flooring, grand staircases and beautiful floral arrangements.

THE ROOMS & SUITES
The highlight of this hotel is that each guest room, and suite has a balcony overlooking the Caribbean Sea with e soft modern interior, soothing ocean-inspired tones, and local artwork. I would give a high rate for their comfortable beds.

Elegant ocean front suite

I loved the spacious classy and luxurious marble bathrooms with dual vanities, a bathtub, and a separate shower. With extensive standard amenities include bathrobes and slippers, an iPod dock, a large television, and a refreshment centre.


A sweet welcome by the Ritz-Carlton team.

We had a room on the Club Level, with an access to the Club Lounge, featuring concierge service, private check-in and check-out, drinks, and mini-buffet presentations throughout the day. I would highly recommend to book a room on the Club Level!

Mesmerizing ocean view from the Club Ocean Front Room.

The beautiful Cobalt Residental Suite.

The expansive windows and doors bring natural light all day long.


Breathtaking beach and ocean views from the Cobalt Residental Suite terrace.

Overlooking the pristine white sand and turquoise Caribbean Sea.

Large terrace with personal infinity pool, private garden and casita overlooking the beach.

SERVICE & FACILITIES
What I love the most about the Ritz-Carlton hotels is their perfect personalized service where the staff address you by name, and remember your preferences. They really enjoy taking excellent care of their guest. The luxury Five Diamond Award winner hotel features two outdoor swimming pools, a spa and a private beach. The Kayanta Spa has a women-only and men-only relaxation gardens with plunge pools and scented outdoor showers, plus soothing massages and their signature Mayan Sanctuary Ritual by the beach. The modern Fitness Center features weight training and cardiovascular equipment, an extensive variety of fitness classes, with a great views of the Caribbean Sea.

FOOD & DRINK
Because breakfast is the most important meal of the day, my most enjoyable moment was to start my day with a delicious breakfast at El Café Mexicano. An impressive and impeccable buffet with goodies like omelettes, pancakes, waffles, tropical fruits, freshly baked breads, and more. A la carte lunch at this restaurant offers delicious seafood, healthy salads, Mexican classics like tacos and tortillas etc. Caribe Bar & Grill offers beachside food like burgers, ceviches, and their signature cocktails.
For dining, I loved the elegant Fantino where my favorite Mediterranean cuisine was served. The five-Diamond-winning Club Grill with live music, steaks and great dessert selection.

We also had the opportunity to dine under the moonlight with an oceanfront table. At the water's edge, each cabanas transform into private oceanfront tables at sunset. Maya-inspired dishes, fresh seafood, tempting desserts and fine wines can be enjoyed under the stars.

D-Lounge serves coffee drinks with an ocean view by day. Collection of more than 100 tequilas, shareable plates, live entertainment and a view over the beach and pool make this the ideal venue for a night out. At sunset it turns into a sushi and cocktail bar.

The Ritz-Carlton, Cancun left great impressions on us, and it was hard to say goodbye.
Photography ©DisiCouture
This content was brought to you in a (upaid) collaboration with the Ritz-Carlton and complimentary stay.