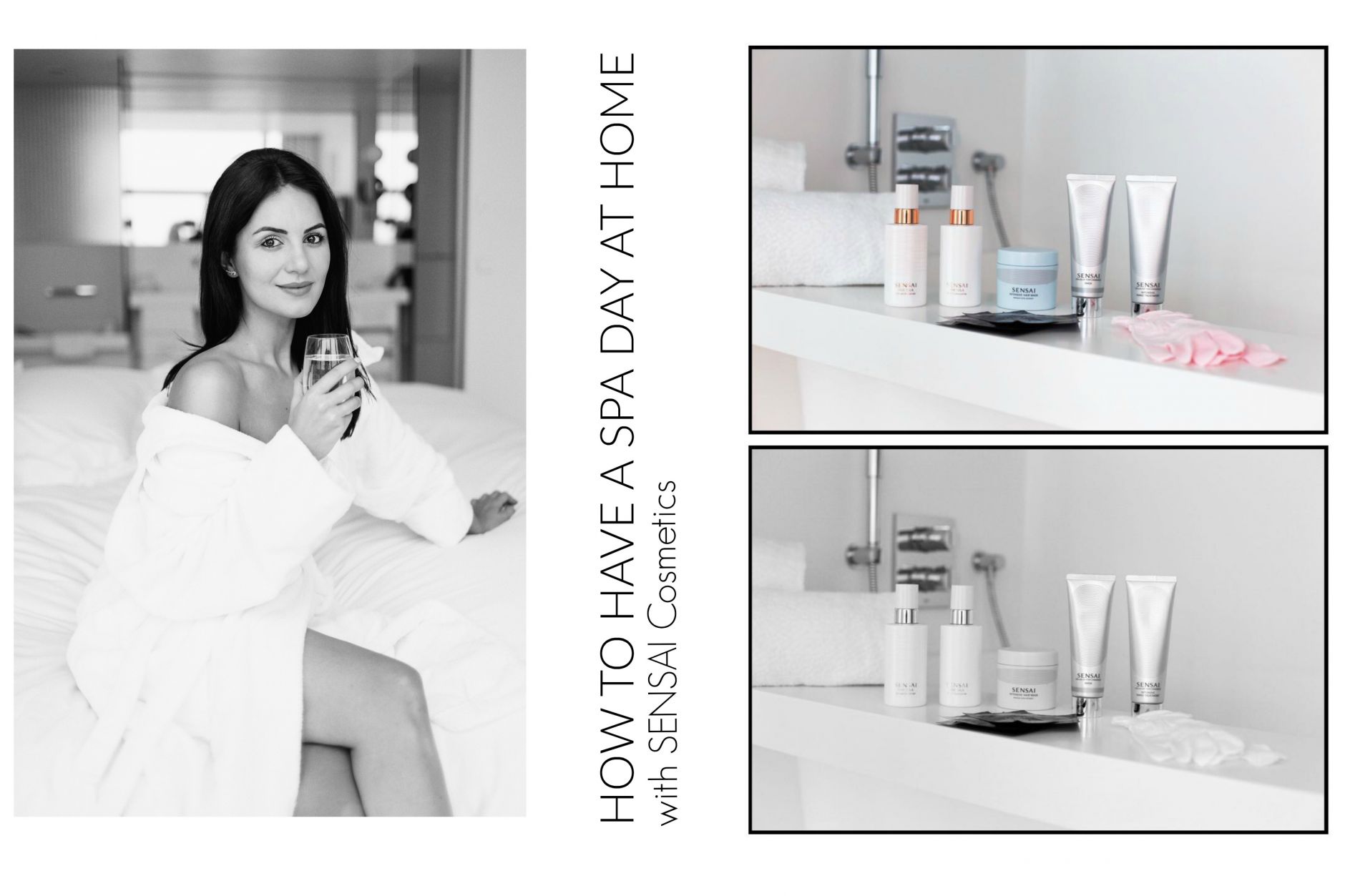 In our hectic everyday life, we are less and less able to treat ourselves to have a break and sometimes we forget what "Work-Life-Balance" means. Between lot of work and appointments, having a relaxing SPA day at home was never so easy since I got to know SENSAI products. In this post I want to share my favorite experience, how to get that SPA glow at home (and for half the price). Just switch off, down the stress level, and take your me time on the weekend or after work during the week. My home SPA program fits in perfectly for everyone for a break and have a "Me Time" all alone.  Here I want to remind you, how important is to find such break and enormously important to find a balance to slow down.
Time to tackle the home SPA project with these easy steps:
KEEP HYDRATED 
Drinking plenty of water gives you a healthy, radiant, younger looking skin. Just like the other organs of our body, skin is also made of several cells. To keep your skin moisturized you need to drink plenty of water, herbal tees, with lemon and ginger, or turn on the blender and make a green juice with kale, spinach, apple, kiwi and lime juice. Beauty is skin deep and it starts from within!

DE-STRESS MORE WHILE HAVING A WARM AROMA BATH
I love bathing, especially with essential oils, and light up my favorite scented candles. Start—or end—the day in a quiet and calming way with a bath. Make sure the bathroom is dark and light your favorite scented candles.

DEEP-CONDITION HAIR WITH SENSAI INTENSIVE HAIR MASK
Women with especially relaxed and fine hair like me, or even curly and kinky hair, will love this intensive hair mask by SENSAI. It's great for protecting new growth, a nourishing mask featuring ten oriental herbal extracts to offer extra care and repair for smooth and shiny hair. This rich hair mask for complicated and damaged hair, provides exceptional suppleness and intense shine, as well as promotes high resistance and a very healthy look of the hair, activates deep regeneration for the entire hair. Apply to wet hair after shampoo, comb hair and leave for 3-5 minutes then rinse thoroughly.
EXFOLIATE
For a wonderful skin, you need to exfoliate time to time. Make your homemade coconut oil and coffee scrub without spending lot of money. Click here for the recipe and how to make your own coffee and coconut oil scrub. After scrubbing gently all over, step into the shower and rinse off with The Silk Shower Cream, and your skin will be like butter.

SILKY SHOWER WITH THE SENSAI SILK SHOWER CREAM
The divine aroma of THE SILK perfume, this shower cream leaves the skin clean, moisturized and feeling very smooth. Massage over skin, then rinse thoroughly. Pro tip: make your bath even more luxurious with SILK SHOWER CREAM and relax with the wonderful THE SILK aroma.

After shower and exfoliation, it's time for an intensive body cream. The Silk Body Emulsion is a luxurious body emulsion that leaves skin silky smooth and bathed in a fresh oriental scent.
DOUBLE CLEANSING AND DOUBLE MOUISTURIZING
The famous SAHO ritual, is no doubt the best for your skin. If you think your skin needs a deep cleansing and lot of moisturizing, click here to learn everything you need to know about the skincare ritual from SENSAI.

This calming, smoothing formula envelops the skin to restore softness and smoothness. Use as an regenerating overnight treatment or for extra pampering program, as an invigorating morning mask.

EXTRA INTENSIVE 10 MINUTE REVITALISING PADS
The first eye masks that really works, and that happens within 10 minutes!!! These essence-soaked pads are perfect for around the eye and mimic area for instant revitalization, intense hydration and renewed radiance. Apply and leave it for 10 minutes, then remove, massaging remaining essence into skin.

SOFTEN HANDS (while watching TV!) WITH CELLULAR PERFORMANCE INTENSIVE HAND TREATMENT
This nourishing cream leaves hands feeling silky soft and safeguards vulnerable skin from UVB damage. It has a wonderful relaxing oriental fragrance and feels very silky on the skin. For extra results use the Cellular Performance Treatment Gloves.


CELLULAR PERFORMANCE TREATMENT GLOVES
These innovative gloves promote microcirculation thanks to ceramic fabric, which intensifies the effect of hand care. Wear gloves for at least 20 minutes, on very rough hands overnight.

TAKE YOUR VITAMINS
Because winter months can be harsh, especially on the face and hands. The key to super-soft and well-moisturized skin is taking a good amount of vitamins.
The products I used:


Wellness: 


Tools & Devices:


Photography (c) Elena Volotova
*In partnership with SENSAI Cosmetics