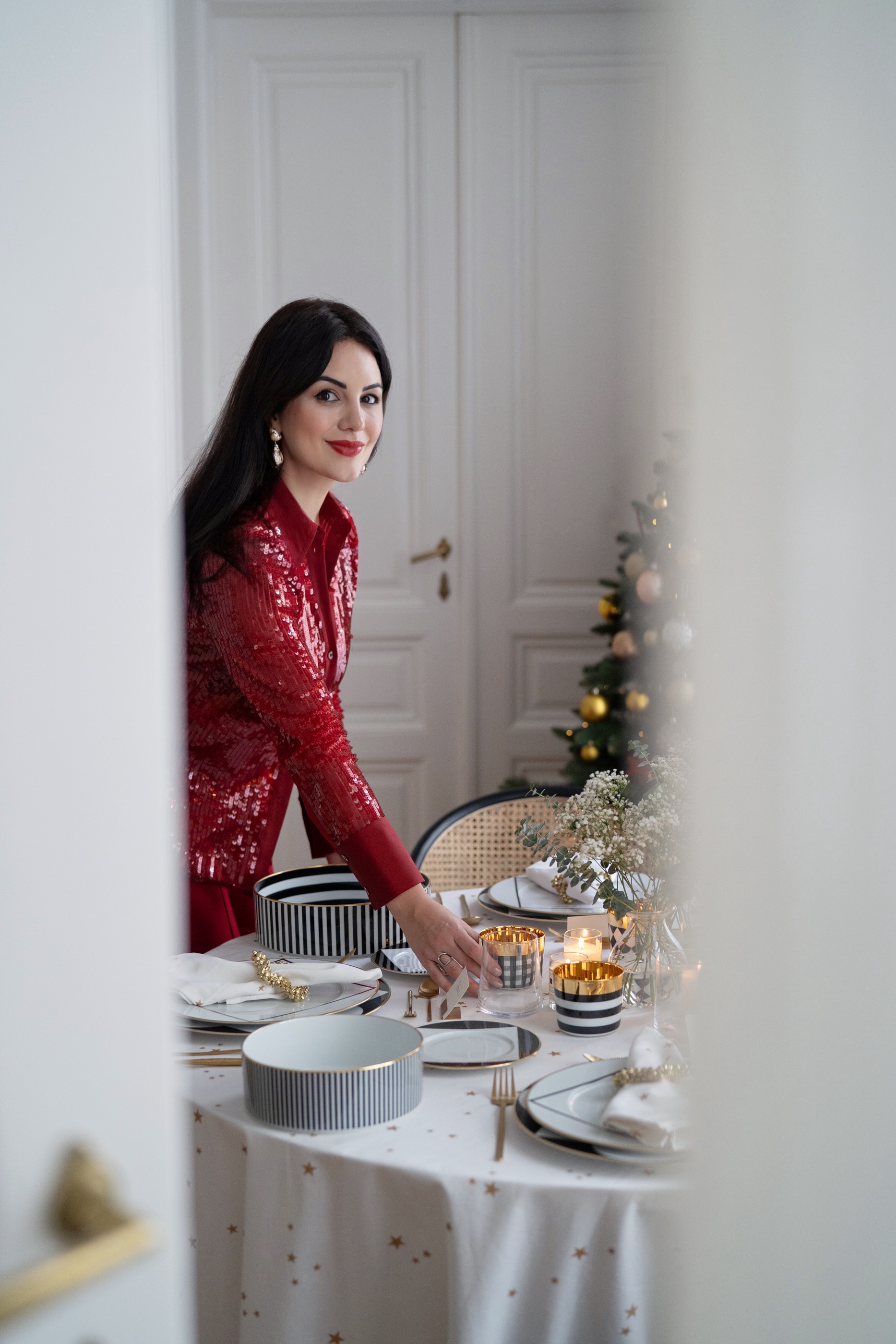 This year I'm looking forward to the festive season more than ever. Blessed and grateful for all the bad and good things that have happened this year— because now when I look back, everything happened for a reason.
Moving to my new home in June was one of the most stressful projects I've had in years, but the reward was as good as I could have imagined.
If you are hosting a Christmas party, holiday brunch or dinner party— you will need a delicious menu, some holiday goodies, unforgettable cocktails and some beautiful decorations.
I love decorating my new home seasonally, especially decorating the dining table. Today, I am excited to share with you my festive dining table decoration with SIEGER by FÜRSTENBERG porcelain and SIEGER by Ichendorf glasses.


Here are few important table decoration tips:
CHOOSE THE THEME & COLOR PALETTE
Whether you like a traditional or modern theme— the variety of color palettes are endless. Traditional festive color schemes include red & gold, green & gold, white & gold, or black & white with a touch of gold. I choose my favorite color combination of black and white with a touch of gold, because it's timeless, modern and very sophisticated. The series of MY CHINA! Ca' d'Oro porcelain has minimal but opulent features at the same time. Michael Sieger was inspired by the Gothic architecture of Venice, For this reason, the decor draws on the form of the quatrefoil, which is reminiscent of a flower.

THEME INSPIRED TABLE CLOTH
A high quality cotton/linen tablecloth adds a luxurious approach to your whole table setting. You can style the napkins with beautiful detailed rings, to provide a festive look.

ELEGANT CENTERPIECE
A festive table setting is nothing without a floral centerpiece. However, to keep the porcelain as a highlight of the setting, I choose Alpine gypsophila with eucalyptus to provide a festive scent to the table.


CANDLES ARE A MUST
For this table setting, I choose scented tealights around the vases. They create a cosy and lovely atmosphere. If you have a long table, candlesticks will add height and can free up the space. For more luxurious decoration, bring silver or golden candelabras on the table.

WINTER WONDERLAND TABLE ACCESSORIES
Make every festive table setting magical with golden stars. Start with a delicate white tablecloth, then add a festive decoration with a touch of gold. Place delicate name holders, napkin rings, tealights, gold cutlery and elegant wine glasses.
A minimal and elegant table setting that will be sure to impress your guests, as well as a wonderful curated menu.

ABOUT
SIEGER porcelain has been created in cooperation with the porcelain manufactory FÜRSTENBERG. Before SIEGER by FÜRSTENBERG porcelain leaves the manufactory, each pieces go through 100 hands, as every detail is made by hand in Germany.
The MY CHINA! Ca' d'Oro is a collection with timeless and elegant style and a modern twist. Ca' d'Oro, the "golden house", is dedicated to all those who appreciate precious materials. The delicate band of gold is applied and burnished by hand to each and every one of the pieces, that provides pure elegance to this collection.


The Sip of Gold champagne tumbler from SIEGER by FÜRSTENBERG is a combination of wafer-thin porcelain and the finest precious metal. Especially when the tumblers are filled with a drink, hundreds of reflections create the impression of liquid gold that gives the collection its name. Michael Sieger drew his inspiration for the collection from a classic silver goblet that he received as a gift from his wife and muse. Today, the Sip of Gold champagne tumblers are available in pure white or black, with precise reliefs or all-over decors – 40 models in total. They compliment perfectly with the MY CHINA! Ca' d'Oro porcelain set.


STAND UP – GLASS TUMBLERS WITH A TWIST
The SIEGER by Ichendorf STAND UP tumblers are created in cooperation with the glass manufacturer Ichendorf Milano from Milan. For the delicate glass tumblers, designer Michael Sieger drew inspiration from the playful lightness of a roly-poly toy. Each time they're touched, they rock gently back and forth before regaining their balance. It's made possible by the precisely curved base, whose contact area with the table measures less than a square millimetre.
The special thing about the glasses is that they swing back and forth with playful ease with every touch until they finally find their balance again. In autumn 2022, the collection of wine and digestif tumblers is being expanded with a new beer and long drink glass, which is also ideal for cocktails. Elegantly curved and standing over 12 cm tall, it too dances spiritedly on the table. A small carafe, which can be used for wine or water, complements the collection.






Photography (c) Tony Gigov
Disclaimer: This article was brought to you in a friendly collaboration with SIEGER by FÜRSTENBERG and SIEGER by Ichendorf and does not contain any affiliate links.