Longer than ten years ago, we were just starting to hear about different beauty treatments, even lasers seemed totally sci-fi. We have also heard a lot about liposuction, but have you heard about fat freezing? Fat reduction is here to stay (or take off). It is the number one cosmetic procedure for the body that is growing over time.
No risk, no surgery, no downtime and no stitches. So these machines also do the work of melting before removing by making fat removal much more gentle with less pain and bruising.
It not only removes fat, but it contours in all the right places. As women we know that regardless of how much we go to the gym or make the right food choices, we still have those specific areas that we don't feel great about. Don't get me wrong, healthy daily life choices like the gym and diet— are very important. But I'm not above realizing when I need to supplement my healthy lifestyle with additional help to get the results that I want.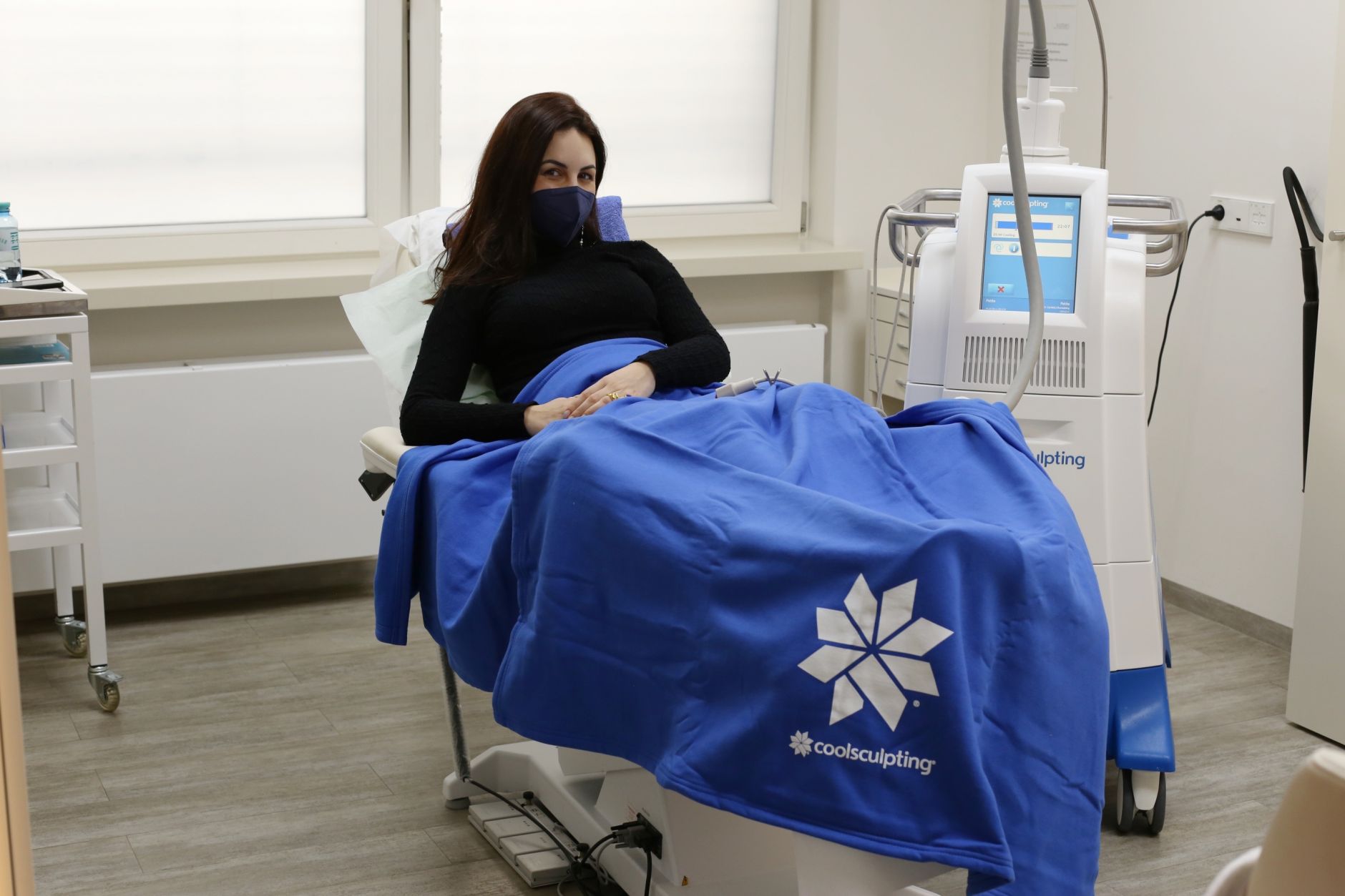 • CoolSculpting® is FDA-cleared for the treatment of visible fat bulges in the submental (under the chin) and submandibular (under the jawline) areas, thigh, abdomen, and flank, along with bra fat, back fat, underneath the buttocks (also known as banana roll), and upper arm. It is also FDA-cleared to affect the appearance of lax tissue with submental area treatments. CoolSculpting® is not a treatment for weight loss.
• The CoolSculpting procedure is a non-surgical, clinically-proven procedure that selectively reduces unwanted fat using a patented cooling technology called cryolipolysis®.
• The applicator cup design also provides a larger cooling area so more tissue is treated, providing further treatment options for both doctors and patients.
• Every patient and clinic is unique, so patients are encouraged to talk to their CoolSculpting provider about a customized treatment plan as part of the initial consultation and to enquire about the availability of the 35-minute treatment.


CoolSculpting at Kuzbari Clinic in Vienna
Dr. Draxler at Kuzbari Vienna, was so kind at breaking it down for me and making me feel comfortable. I've done two treatments on my lower abdominal area and inner thighs, and I'm already seeing amazing results. As 1.77 tall in normal weight, I've always had a disproportionate paunch of fat on my abdomen that has annoyed me to no end and resisted all forms of exercise and diet. Coolsculping significantly reduced it, however in inner thighs, I don't see any noticeable results yet… but I need to be patient.

The results from CoolSculpting gradually happen over time. In fact, it may be up to 3 months before the full benefits are seen. Because of this, it is something that you don't notice everyday, but you notice after not thinking about it for a while. CoolSculpting works, but also if you're really strict with your diet and exercise regimen.
Who is a good candidate for CoolSculpting?
This treatment is for anyone who is health-conscious and exercises but is looking for that extra fat loss and definition. Unless you are pregnant or nursing, you must wait until after you have stopped breastfeeding to consider this treatment.
To be a good candidate for CoolSculpting, it is crucial that you have realistic expectations about the results. While results vary from person to person, I am very happy with the results after 3 weeks, while regularly working out has also helped me to build a stronger and defined body. NOTE: CoolSculpting® is not a treatment for weight loss.
You can learn more about Emsculpt and book an appointment at KUZBARI Center Of Aesthetic Medicine on this website.
Photography (c) for DisiCouture
Disclaimer: I received complimentary CoolSculpting treatments in exchange for an honest review.