A perfect and sophisticated tropical minimalism: clean lines, wooden water villas and all white beach front pool area overlooking the 50-shades-of-blue Indian ocean. The ultimate dream honeymoon destination.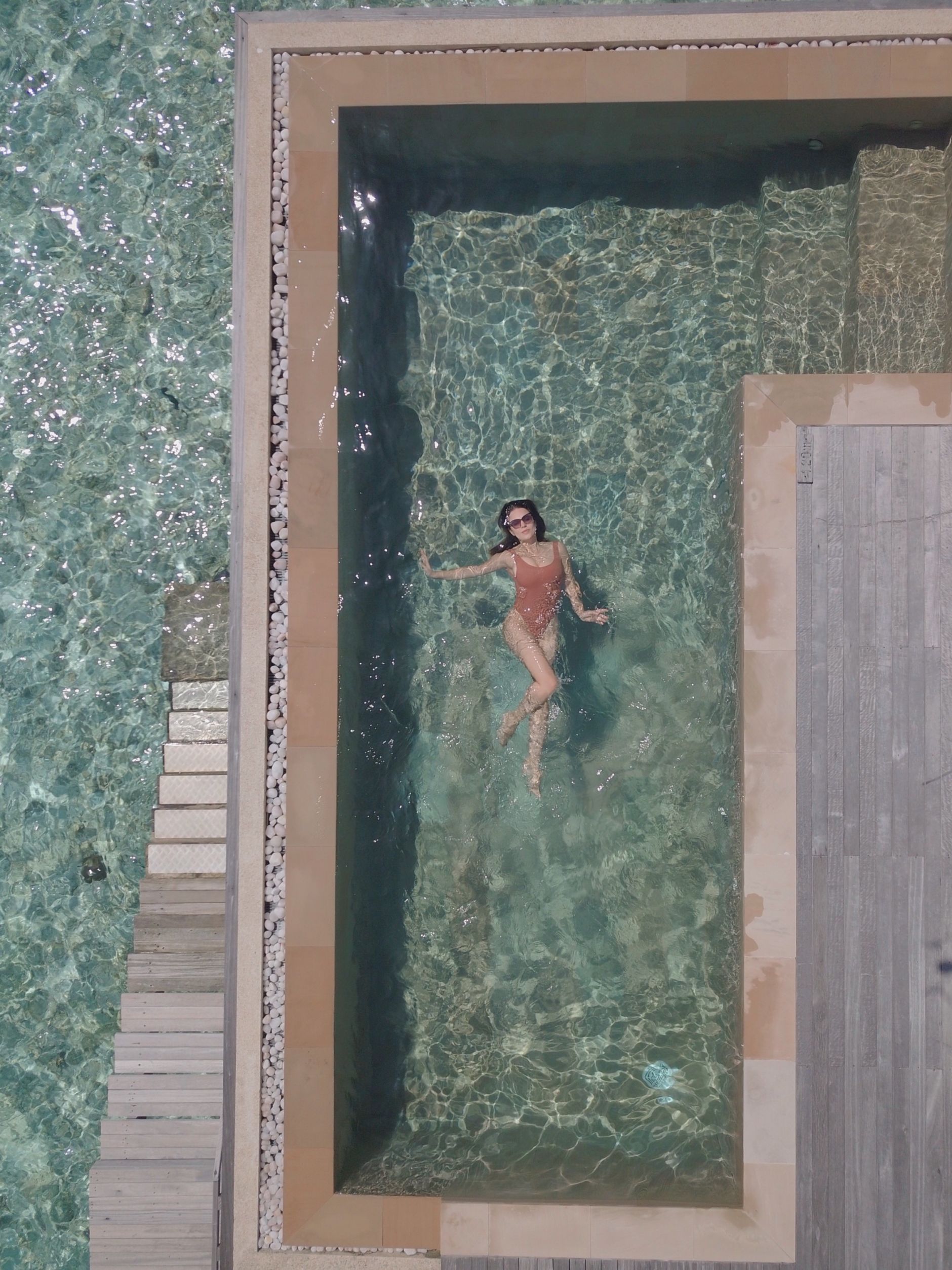 New week, new hotel review from the Maldives. Right after we checked out from Soneva Fushi, first we flew to Malé International Airpot (MLE) in order to take the seaplane transfer to COMO Maalifushi.
On our arrival to MLE, we were greeted by the friendly COMO Maalifushi staff with welcome drinks and snacks. While waiting at the relaxing COMO Maalifushi lounge for the seaplane transfer, a staff member took care of our check-in. After a spectacular 60-minute seaplane flight from Malé, we arrived to the resorts Jetty Arrival and the view over COMO Maalifushi was already surreal.

ABOUT COMO
Award winning luxury hotel group, COMO Hotels and Resorts offers luxury travel experiences with personalized service in elegant properties from Tuscany to Turks and Caicos. Each property is different, but with same values. COMO is responsible to provide memorable experiences to the guests.


THE ISLAND
COMO Maalifushi is the only resort in the tranquil Thaa Atoll. The stunning island is almost entirely surrounded by marine corals, which looks like a flowerpot surrounded by dozens of other species. Maalifushi has breathtaking white sand beaches and endless turquoise ocean. There is also a string of uninhabited private islands, where there are seasonal hammerhead and manta ray sightings. COMO Maalifushi is therefore a perfect destination for couples, families, as well as for those who are passionate for watersports.

THE RESORT
A perfect and sophisticated tropical minimalism: clean lines, wooden water villas and all white beach front pool area overlooking the 50-shades-of-blue ocean. The resort vibes are very sophisticated yet easy and unpretentious. Guests can stroll around the island on bicycles, take long walks on stunning white sand beach and witness the most breathtaking sunset views before dinner.

THE BEACHFRONT POOL
Probably the the most beautiful and perfect resort beachfront pool area, designed for kids and adults who like to cool off, which backs on to the bar and restaurant. The beach itself is a place of tranquility and relaxation.


SERVICE & FACILITIES
The friendly team can arrange various and extraordinary experiences, such as deep sea fishing, dolphin-spotting cruises and night swimming with whale sharks. COMO Maalifushi makes sure to deliver a memorable experience for everyone. The resorts also offers 8 double treatment rooms, a yoga pavilion, steam facility (separate male/female), gym with weights and cardio equipment, 44m-long freeform swimming pool, watersports center, dive center, resort boutique, library. Including the Madi Restaurant, which serves Maldivian International and healthful COMO Shambhala Cuisine, TAI restaurant serving Japanese cuisine with live bar sushi, THILA bar, and play by COMO Space.

A perfect and sophisticated tropical minimalism.


THE WATER VILLAS
Each of these dreamy water villas has a private pool, sundeck and full-length windows overlooking the Indian Ocean. The bedroom has a separate dressing area and a spacious bathroom that features a sunken bath and outdoor shower. The large and airy sitting area can double up as a sleeping area.

Scroll down to see all images of Villa 308:
COMO Maalifushi also offers garden rooms, suites, beach villas, beach houses and residences. I would recommend water villas for couples, and the beach houses for families. Click here for more.

THE CULINARY EXPERIENCE
Breakfast is served in the main restaurant Madi' (meaning Manta Ray in the local Dhivehi language) offers a buffet of tropical fruits, wellness and detox juices, breads, pastries and à la carte dishes such as eggs Florentine, pancakes, and a menu full of delicious Maldivian, Italian and modern cuisine. Everything I had was so delicious.
COMO Maalifushi offers fresh local seafood, serving sushi and sashimi at the Japanese restaurant TAI, as well as fresh and organic food all-day dining a Thila bar & restaurant, and the healthy COMO Shambhala menus.
THE COMO SHAMBALA SPA
The COMO Shambala Spa is a destination to wellness paradise. The spa offers wellness programs based on Asian traditions, from Thai massage, Taksu and Indonesian massage, to foot reflexology and Indian head massage, facials, as well as active anti-ageing retreat which blends meditation with pranayama breathing, low-impact exercise etc.
The eight double treatment on water pavilions are designed for ultimate relaxation on a massage bed or in oversized bathtubs, while enjoying the ocean view and listening to the sound of the waves. The spa has steam, sauna and Jacuzzi areas, as well as an open-air yoga pavilion located on the sunrise side of the island.
The view from COMO Shambala Spa treatment rooms.

WHAT I EXPERIENCED
Despite of the short stay at COMO Maalifushi, I experienced lot of fun activities such as reef snorkel, where I enjoyed the incredible Maalifushi underwater world as well as the dolphin cruise.
The dolphin sunset cruise and snorkeling are the must-do's at COMO Maalifushi. Professional marine biologists locate dolphins at feeding time and in my case they were dozens of spinner dolphins. I've never seen them so close and in such large numbers. Definitely an experience I will never forget!



Magical sunset dolphin cruise.



I never met a sunset I didn't like.


All pictures (c) Disi Couture
Disclaimer: This content was brought to you in friendly collaboration with COMI Maalifushi as a press visit, and a complimentary stay.